Please note: Lecture presentations are 45 - 90 minutes in length. It is the responsibility of the hiring group to have in good working order a Kodak carousel slide projector and an empty carousel for 80 slides, with someone to setup and run it, as well as a projection screen, quilt rack and 2 tables for quilt display.
AMERICA'S QUILTED GARDEN BLOCKS
A Quilted Celebration of America's State Flowers
Enjoy this entertaining and informative trunk show/lecture. It pays tribute to the beauty of America's State flowers in this collection of 55 original designed pieces by Faye Labanaris.
Over a dozen different techniques are used to create the many different flowers for the 50 state flowers of the United States, as well as, the District of Columbia and four US territories. Allow 75 minutes for this presentation.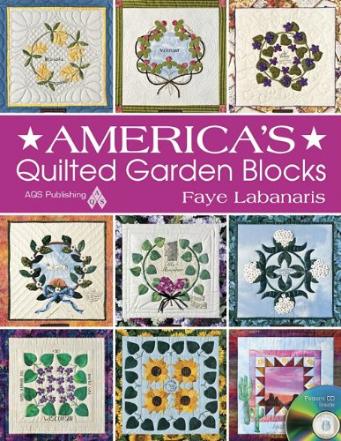 QUILTS WITH A VIEW
A Fabric Adventure Trunk Show
Join Faye for an exciting and entertaining presentation of Quilts With A View! A trunk show of quilts all made using her intriguing and innovating way to look at the fabric's design and create one-of-a-kind beauties. This concept will appeal to the fabric lover in all of us! After this presentation you'll never look at fabric the same way again. No Slides, just quilts!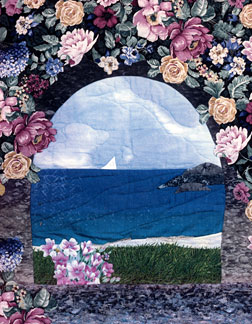 Castle View by Fern Junnila (a student) from Massachusetts


HAWAIIAN QUILTING
It's More Than The Quilt
Learn about the history, philosophy, mystery and romance of this beautiful and unique form of quilt making in this presentation is illustrated with slides and quilts. Hawaii and their quilts are memorable and beautiful. Let Faye share her love of Hawaii and Hawaiian quilts with you.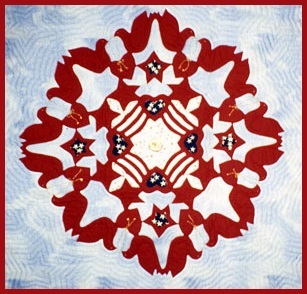 A TRIBUTE TO CELIA THAXTER: 1835 – 1894
A delightful and moving lecture of a quilt, a historic personality, a garden, poetry, all tied together in a heartwarming true story. Celia Thaxter, a well known New England poet, spent most of her life on the Isles of Shoals off the coast of New Hampshire. Her interesting life and garden have not passed from memory. See how Faye has reflected these in her "A TRIBUTE TO CELIA THAXTER" quilt and lecture.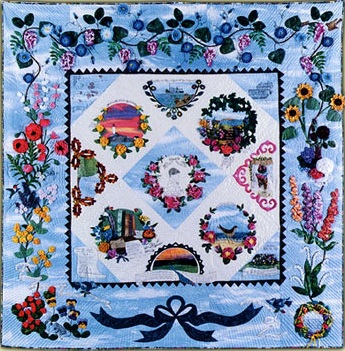 THE GREAT BALTIMORE REVIVAL
Learn about the history of the original Baltimore Album Quilt period 1850's, as well as the present day revival. Why is this style of quilt so intriguing and still speaking to us over 150 years later? How do these beautiful quilts speak without words? Learn the answers to these questions and more, as well as how you can get started on your own Album quilt.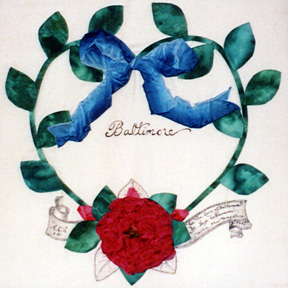 DOWN THE GARDEN PATH
Inspiration and Design
Do you enjoy flowers, fabric and gardens?
Create a quilt just as you create and develop a garden. Follow Faye as she travels through the English countryside of thatched cottages and beautiful gardens. Learn how she created her award winning quilt, An English Cottage Garden. Enjoy a trunk show of quilts and a slide presentation for lots of inspiration.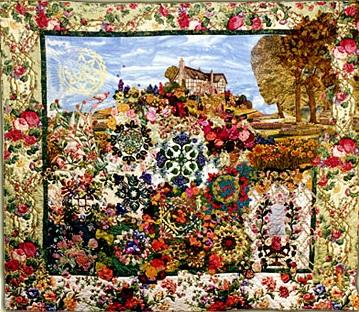 Copyright
© 2012 - 2017 Faye Labanaris. All Rights Reserved.