Please note: Instruction time for workshops is 3 or 6 hours. This does not include lunch time. Please be sure to add additional time on to workshop day for lunch so participants have full workshop instruction time.

STATE FLOWERS
Enjoy creating a wall hanging or pillow with YOUR state flower. Depending on the flower, workshop time is 3 or 6 hours. Contact Faye for specific information about your state flower workshop. See America's Quilted Garden Blocks for a picture of your state flower quilt.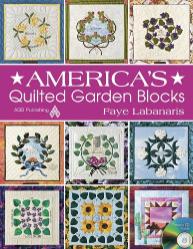 QUILTS WITH A VIEW - Fabric Adventure
Still popular and lots of fun! This class will appeal to the fabric lover in all of us!
Do you have fabrics you've bought, can't cut, and don't know what to do with them. Well, now you'll be able to create original pieces using these fabrics. The fabric dictates the design! After this class you'll never look at fabric the same way again.
3 hour class - just design work with fabric
6 hour class - includes afternoon embellishment instruction
Two-day workshop - with sewing machines, includes all the above and more design time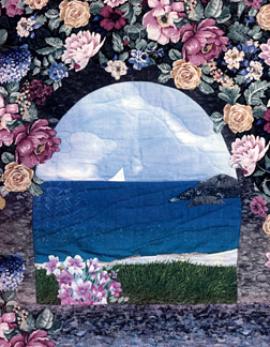 Castle View
by Fern Junnila (a student) from Massachusetts
HAWAIIAN QUILTING

ALOHA! Come away with me and learn a beautiful style of quilt making. Hawaiian quilting is a lovely and meaningful way to make a gift of love from fabric. If you've ever been afraid of appliqué, this stress-free method of 'needle-turning' is for you. Begin a wall hanging of a traditional design in class or design your own original Hawaiian-style quilt.
3 or 6 hours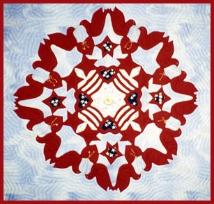 LET'S MAKE RIBBON FLOWERS

You asked for it! Learn to make LOTS of flowers. Create many different blooms from posies to roses, pansies to daisies and so many more from French wire-edged ribbon, vintage unwired French ribbon and bias silk satin. Construct on a crinoline base, use stamens and beads to enhance your blooms, create flowers using component petals and a variety of leaves to complete your ribbon creations. You can use as ribbon appliqué on a quilt or a garment or create a beautiful pin to enhance your wardrobe. Everything you'll need is provided in a kit.

3 or 6 hours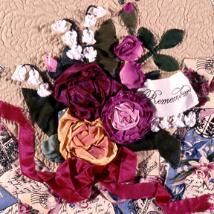 PANSY BASKET

Create a delightful woven ribbon basket full of ribbon pansies as an introduction to French ribbon flowers. Learn techniques to create a variety of pansies and leaves in wire-edged ribbon. It's lots of fun and you won't be able to stop with just one.

3 hours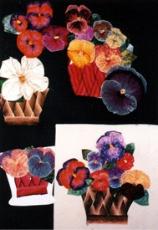 "FOR THE LOVE OF BALTIMORE" – Ruched Rose Wreath
This delightful heart-shaped wreath with a ruched French ribbon rose and buds will teach you several basic Baltimore Appliqué techniques, such as needle turn appliqué, superfine stems, and perfect points and enhance your appliqué experience. Enhance this wreath with beautiful rose of French ribbon that could be worn as a corsage.
6 hours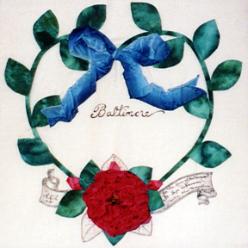 ONE MAGNIFICENT ROSE

- A Moss Rose Applique
Pick a beautiful rose from your garden and present it to a special person. Now capture this beautiful gesture in fabric and you have an everlasting gift. Inspired by a prize winning quilt design from the 1850's, this classic beauty is fun to sew. Stitch up a single stem for a lovely wall hanging or pillow. Stitch up a dozen blocks for a lap quilt or two dozen for a bed quilt.
Learn basic needleturn techniques for beautiful hand appliqué bias stems, perfect pointy leaves.
Make the roses from beautiful French ribbon, broderie perse chintz work, layered fabric petals, or a ribbon rose, the choice is yours. Use ultrasuede applique for intricate bud cases, create ribbon buds and highlight with embroidered accents. From Applique Rose Garden

6 hours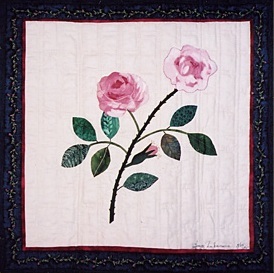 FASHION STATEMENT ROSES - Ribbon Flowers as Wearable Art

Roses are for wearing! Create these multi-petaled beauties from beautiful ribbons and be right in style today with these show stopper roses in your wardrobe. They are lots of fun and easy to make. In just a short time you'll create beautiful flowers pretty as a picture and fun to wear!

3 or 6 hours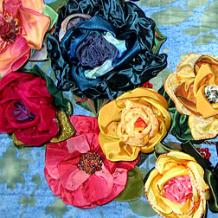 ROSEWORK EMBROIDERY
This is classic redwork embroidery with a twist! Using designs from Faye's book, Applique Rose Garden, create a four-patch wall hanging of vintage album patterns from the 1800's. Use 3 shades each of red, green and golden yellow floss to do basic as well as accent embroidery stitches. A fun, easy and very relaxing project.

3 hours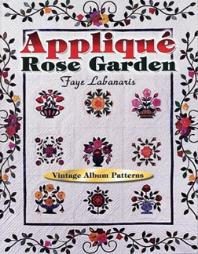 ULTRASUEDE APPLIQUE Quick and Easy!
Almost no sewing is involved in this wonderful applique technique. Learn to do cutwork appliqué without having to needleturn! Make delicate bud cases for roses, tiny flowers petals and berries with ease. Ultrasuede is fun to work with and produces great results. Learn to enhance your ultrasuede appliqué with a few finishing touches for a wonderful addition to your stitching techniques.
3 hours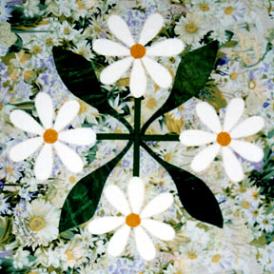 ROSEBUD WREATH
Stitch a classic wreath design from a vintage floral album pattern from Faye's book, Applique Rose Garden and learn needleturn techniques for beautiful hand appliqué bias stems and perfect pointy leaves. The use of ultrasuede for bud cases and dimensional rosebuds made from silk satin make this project fun, easy and quick.
3 hours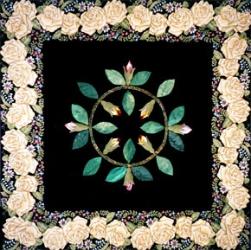 Copyright
© 2012 - 2017 Faye Labanaris. All Rights Reserved.