Won't you come into my garden?
I'd like my flowers to meet you!
If you like flowers & would like to do some relaxing hand sewing, stay right here! I can offer you techniques for hand needle turn appliqué, as well as for making beautiful flowers from French & silk ribbon. I hope you enjoy your visit & may flowers always brighten your day!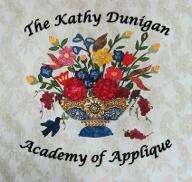 THE KATHY DUNIGAN ACADEMY OF APPLIQUE
February 8 - 11, 2017
Shaker Sewing Box Class - February 8, 2017
Quilts with a View Class - February 9 - 11, 2017
REGISTRATION IS LIVE!
CLICK HERE FOR MORE INFO


Copyright © 2012 - 2017 Faye Labanaris. All Rights Reserved.
All pictures and material on this site are protected by copyright law and no image
may be reproduced in whole or in part without expressed written permission.