DECEMBER, 2012
Amazing Turkey Soup… It's OMG Delicious!!!
½ cup butter cubed
2 carrots finely chopped
2 celery ribs finely chopped
1 medium onion chopped
1 /2 cup flour
4 cups chicken broth
2 cups half and half ( I used Non-Fat version)
2 cups cubed turkey
1 Pkg Uncle Ben's Long grain & Wild Rice – prepared
½ tsp salt
¼ tsp pepper
In a Dutch Oven, sauté carrots, onion and celery in melted butter until tender.
Stir in flour until blended – cook until blended.
Wisk in broth. Boil, stirring constantly. Stir until thickened.
Stir in remaining ingredients. Reduce heat and simmer for 20 minutes, stirring occasionally
Enjoy!!!

From Maryann at Mares Bears Quilt Shop in Lewes, Delaware
Note: you can use Vegetable Broth and omit the meat for a vegetarian version
NOVEMBER, 2012
November makes us stop and give thanks for our blessings. I give thanks for having you as a Bouquet Recipient! I hope you get a bit of pleasure from each month's Bouquet. It is a blessing to be a quilter and to have the pleasure of fabric. Some of the blessings of my fabric are overflowing and shall be shared with others who make quilts of valor for our veterans. They are ones who deserve our heartfelt thanks for their sacrifice for our freedom. Let us not forget them in our prayers. Have a wonderful Thanksgiving! Enjoy the recipe for Nantucket Pie!
Nantucket Pie
Compliments of Nancy Ekola, Cocheco Quilters Guild, Dover, NH

Filling: 1 cup cranberries, 1 cup blueberries, 1/2 cup sugar, 1/2 cup slivered almonds

Batter: 2 eggs beaten, 1 teaspoon almond extract, 3/4 cup melted butter,
1 cup flour, 1 cup sugar

Grease a 10" pie plate or spray with Pam

Place berries on bottom of pie plate and sprinkle with 1/2 cup sugar.

Add all the almonds over the berries.

Prepare Batter: Mix sugar and melted butter, then add the rest of the ingredients and pour on top of berries.

Bake:325 degrees F. for 35-40 minutes. Serve with whipped cream.


SEPTEMBER, 2012
September is Back To School!!!
While we no longer have to get on a school bus or walk to school, our learning experience never stops.
As quilters, there is so much to learn about: nwe projects and techniques. Research has proven that our minds need to be exercised and stretched to keep them sharp and alert!
So this month try a new project out of your comfort level. Stretch yourself!
I'm doing just that. As a hand appliquer, it is quite a challenge for me to be making a queen size machine piece autumn leaf quilt for my niece's wedding present. So many pieces and so many precise points...a true challenge! I marvel at my skill whenever points come out perfect. I will finish it but will always be a hand appliquer at heart!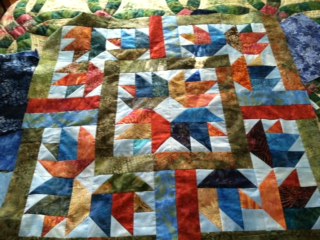 AUGUST, 2012
...lazy, crazy, hazy days of summer!!!
With this HOT summer weather, we are spending a lot of time indoors with wonderful AC staying cool. But if a little cabin fever is setting in, I have a suggestion to keep you busy for a bit. Pick one of your "museum" sewing drawers, a shelf or the mysterious plastic bags full of stuff...EMPTY & SORT!
If you are like me, you have several of these drawers that are chock a block full and you haven't a real clue as to what they contain. EMPTY & SORT! This is quite an adventure! You become reacquainted with long forgotten stuff! Sort into 3 piles - KEEP, TOSS & SHARE!
The end result is a drawer that now should have more potential storage space. You have rediscovered some old items you have long forgotten about and you have recycled and passed on those items you no longer want or need.
Enjoy the adventure and stay cool!
JULY, 2012
I am writing this from the Land of Aloha!
I am in Hawaii on the island of Kauai for Quilt Hawaii. I know...it's a rough job but someone has to do it! Hope you can join us next year for Quilt Hawaii '13 again on Kauai. Visit our website for details later in the year.
Hawaiians have a wonderful 'hang loose' attitude. Enjoy the moment and don't worry about tomorrow as it is not here yet! I try to take that attitude back home with me as a lasting momento of Hawaii. I share it with you. Enjoy your summer with Much Aloha!
JUNE, 2012

Wow, June has almost passed me by!
On this the longest day of the year, I wish you all a wonderful summer! Family matters have kept me very distracted, but everything is going smoothly now. Family is first! But we do have to take time to stop and smell the roses ... something I haven't done for a while. Relax and enjoy the moment. We have a family of wrens in a birdhouse right outside our patio door window, so it is a wonderful sight to watch them feed their young. A robin is also nesting on the front porch, so we are using the back door. Those are my "smell the roses" moments. Enjoy yours!
MAY, 2012

This bouquet is just bursting with blooms!
An early spring in New England, and across the country, has the countryside just full of beautiful blooms. I haven't caught up with gardening chores yet, as I have been busy going to the AQS quilt shows in Lancaster and Paducah with our tour groups. Having fun, looking at beautiful quilts and fabric shopping has taken precedent over pulling weeds!
Another thing that is just bursting into bloom is my website! I hope you like all the changes that are happening. My second born son has performed miracles! Thank you, Tommy! Please be patient as we set up "The Store"!
As always, if there is anything specific you would like and don't see it up yet, please e-mail me. I'll do my best to help you out.
Enjoy our beautiful spring and have fun with fabric…that's what it is all about!
APRIL, 2012

Hope you are all enjoying the early Spring this year!

Instead of enjoying the great outdoors, I have been very busy putting together embellishment kits for those State flowers in America's Quilted Garden Blocks that required specialized materials. This is a labor of love! Right now I have kits for about 24 states completed with about another 12 states to go. There are no kits for any state blocks that are all fabric. I am sure you have lovely fabrics at home for those blocks.

I shall have a list available shortly on the website with ordering information.
Please don't hesitate to contact me with any questions.

Enjoy the sunshine!
MARCH, 2012
Spring is coming! And I can hardly wait!! It has been a long, almost non-winter in the Northeast, but, fingers crossed, it continues. I look forward to blooming spring flowers and warm sunny days. I am also looking forward to sharing my new website with you! It is blooming with lots of new additions, thanks to my second born son Tom! Kids are more computer savy than their parents, at least here anyway.
I am also looking forward to having ribbon for sale through my website and also Embellishment Kits for the State Flower Blocks in my new book, America's Quilted Garden Blocks.
Keep checking for the progress we are making in getting everything on-line.
Enjoy Spring!
FEBRUARY, 2012

Happy February!

When this month leaves us, Spring is on its way, at least we hope so here in New England. This is the month of Love, so do something loving for yourself. Free up your space and guilt by eliminating some UFO's! If you do not have any, then enjoy new projects and some chocolate! IF you do have SOME UFO's, go through them and get rid of at least 3, maybe more if you are on a roll. Unless you are madly in love with the unfinished project, chuck it! It is not worth the space it is taking up. Your tastes in fabrics have changed, or maybe you didn't like the technique involved. What ever the reason, free yourself for more new projects! Spring cleaning!

I would love to hear from you if you've taken any of this advice to heart!


JANUARY, 2012

New Year's Greetings to you and may it be a good year for you,
full of good health and happiness!

May you enjoy each day with some special time to yourself for stitching, even if it just 15 minutes! Relax and enjoy wonderful feeling we share of working with fabric.

I love the promise of a new beginning offered with the new year. It's fun to feel free with the idea of a clean slate. Begin new projects as a treat to yourself, but don't worry about old unfinished projects. You probably didn't finish them because you didn't like them. Get them out of your house! Instead of that negative energy on the old unliked projects, pursue your new projects with pleasure. Someone in your guild will love the challenge of your UFO.

I am looking forward a new venture with my newest book, America's Quilted Garden Blocks.
I am creating Embellishment Kits for some of the state flower blocks that require specialized materials, that may be hard for you to find. Please e-mail me at fayequilt@comcast.net for a list of kits that will be available.

Treat yourself to the gift of doing whatever you want this year – at least for the month of January! Enjoy yourself, you are special! And don't forget to have some chocolate, too!
Copyright
© 2012 Faye Labanaris. All Rights Reserved.