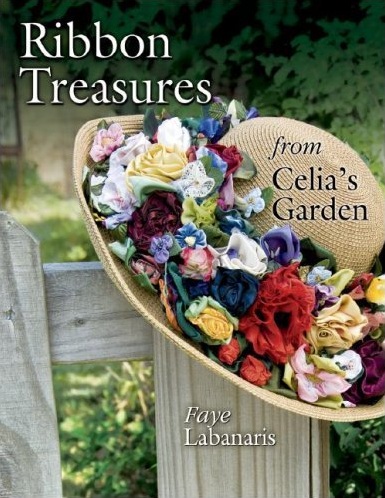 RIBBON TREASURES FROM CELIA'S GARDEN

Faye Labanaris
Once again this energetic and sought-after teacher brings the inspiration of Celia Thaxter's Isles of Shoals garden to life. The incredible number of ribbon styles and colors available today will enable you to re-create these glorious blooms. Even beginners will be inspired to try these exquisite, three-dimensional blossoms as the clearly illustrated instructions will take them from start to successful finish. Meticulous instructions are given for a variety of ribbon flowers. These delightful posies can be used singly or in combination to enhance quilts, clothing, fashion accessories, and home décor items.
Reviews
"Learn how to create three-dimensional blossoms working with ribbons with Ribbon Treasures from Celia's Garden, a guide to decorative flowers which can be created to enhance quilts, hats, home decor and more. Step-by-step full-color directions make it easy to follow specifics on creating flowers from ribbons, with enticing and inspirational finished results presented. Any quilting or needlework library needs this." -Midwest Book Review


Published by The American Quilters Society in 2007. Order your autographed copy today for $26.95. Click HERE for the link to an order form.

Copyright
© 2012 Faye Labanaris. All Rights Reserved.