BOUQUET ARCHIVE
Select Year: 2015 - 2014 - 2013 - 2012 - 2011 - 2010 - 2009 - 2008 - 2007 - 2006
SEPTEMBER, 2015
Wow, I can't believe it's already September! The summer has really flown by.
I guess that's what happens when you're having too much fun!
September is back to School! This has always been a special time for me.
I am busy getting ready for my classes at the Kathy Dunigan Applique Academy

in Rockwall, Texas, January 31 - February 6, 2016 .
It is going to be wonderful! Come on down and join the fun!

Visit: www.kathyduniganappliqueacademy.com
I will also be teaching classes in Houston, Texas at the International Quilt Festival.
It's a fantastic show so join us there, too!
Experience the joy of learning something new.

Take a class, try a new technique, use a new fabric. Get into a quilt book and learn something new.
Learning never ends and gives spice to your quilting!
JULY, 2015

Happy 4th of July!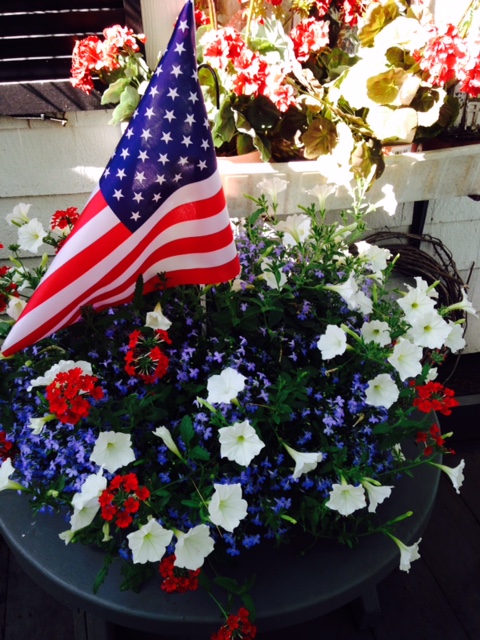 Nantucket Pie
Compliments of Nancy Ekola, Cocheco Quilters Guild, Dover, NH

Filling: 1 cup cranberries, 1 cup blueberries, 1/2 cup sugar, 1/2 cup slivered almonds
Batter: 2 eggs beaten, 1 teaspoon almond extract, 3/4 cup melted butter, 1 cup flour, 1 cup sugar
Grease a 10" pie plate or spray with Pam
Place berries on bottom of pie plate and sprinkle with 1/2 cup sugar.
Add all the almonds over the berries.
Prepare Batter: Mix sugar and melted butter, then add the rest of the ingredients and pour on top of berries.
Bake:325 degrees F. for 35-40 minutes. Serve with whipped cream.
JUNE, 2015
Wishing everyone a wonderful June and happy Summer! It's my birthday month so happiness to all!
Give yourself a present & register for the Kathy Dunigan Academy of Applique February 1-6, 2016 in Rockwall, TX.
It's great lineup of teachers, class, and events. Come a day early and go on the tour on Saturday June 30.
Be sure to visit The Shop and see all the new things we have to offer.

Enjoy this beautiful month. We are finally getting much needed rain in New England. I hope you are safe where you are.
I'll be vending at the Vermont Quilt Festival, June 25-28 in Essex Junction. It's a great show, hope to see you there!
MAY, 2015
Happy May Everyone!
Enjoy this beautiful weather and flowers everywhere!
I had a wonderful time at the AQS Quilt Week show in Paducah.

Great classes, great students and great quilts! They do get better each year!
If you have never been to Paducah, you should put it on your list.

The whole town is involved! It's a wonderful event, no matter where you turn.
I am next looking forward to vending at the Vermont Quilt Festival and will be getting ready for that.

In the mean time, I am enjoying working in my garden, trying to get it to bloom as easily as ribbon does for me.
Keep checking the Shop as we will be having some new items coming up real soon! Just in time for Spring flowers!
APRIL, 2015
At last Spring is Almost here!
Snow is still on the ground, but snowdrops and crocuses are blooming in my yard.
Wishing everyone a happy Easter and Springtime!

I am busy getting ready to vend at the MQX show in Manchester NH April 8-11
at the center of New Hampshire. Come on down if you are in the area. I will have a quilt entry in the Emerging Entrants as a Machine Quilter! This is my first machine quilted entry in a competition. Wish me luck!
Then it is on to Paducah, Kentucky for the American Quilter's Society Quilt Week, April 21-25. I will be teaching 4 classes and a lecture and having too much fun in between. I can't wait to see all the beautiful quilts that are always entered.

Guess getting my gardens in shape will just have to wait until May! It WAS a very looong winter!! Enjoy Spring.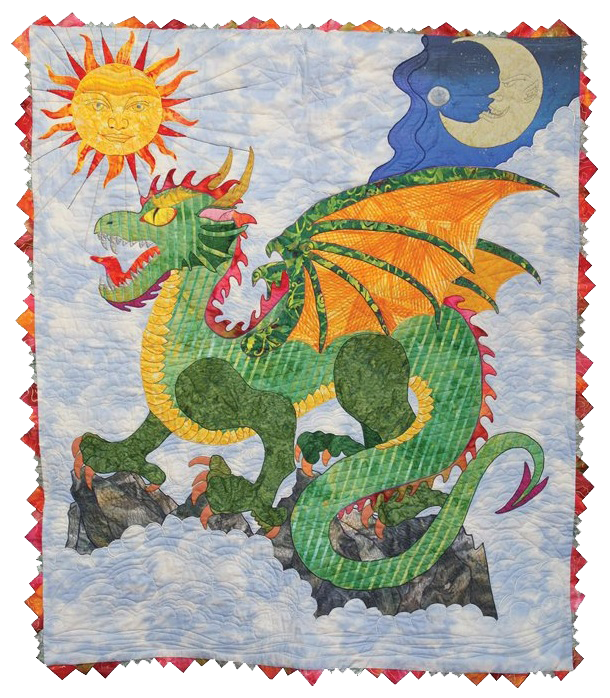 MARCH, 2015
At last March is here! The promise of March is that Spring will really be just around the corner. This year it seems to be a longer ways to that corner…but we are on the right path! As we say in the Northeast – we made it through another winter and this year most of the country can say that
The Kathy Dunigan Academy of Appliqué in Rockwall Texas, February 3-8 was an absolutely wonderful, Texas-style success! Plans are underway for 2016 and I'll keep you informed. You really want to join us next year!
I have repackaged my Ultra-suede offerings and they will be posted shortly. Now you can get 3 shades of the same color for $5. Piece sizes are 3" x 6". This is a great opportunity to build your collection (I hate the word STASH) of Ultrasuede colors. There will be a few limited packages of assorted colors also.
I would like to thank all who so generously contributed to the Roses for Libby fundraiser I ran in Texas at TKDAA. Together We raised over $5250! You can read more about the fundraiser on the TKDAA website or on their Facebook page. Keep those prayers for Libby Lehman going as the power of prayer is powerful and she is on the miraculous road to recovery!
Copyright
© 2012 Faye Labanaris. All Rights Reserved.