SEPTEMBER 2016

Wow, it's September already! Where did the summer go? I hope you all had a great summer.

September is Back To School!
While we no longer have to get on a school bus or walk to school, our learning experience never stops!
As quilters, there is so much to learn about . . . new projects and techniques.
Research has proven that our minds need to be exercised and stretched to keep them sharp and alert!
So this month try a new project out of you comfort level. Stretch yourself!
Have fun in the process!
AUGUST, 2014

I hope everyone is enjoying the dog days of summer…. Guess that term means the last days of summer! I am vending at the Bayberry Quilt show in Harwich on Cape Cod, Massachusetts. It is always a wonderful show! This is my 21st year as a vendor there and it IS my favorite show!

At a previous show this year, one lady who stopped by mentioned that she was buying NO more fabric as she had plenty! Well…. We ALL have plenty!... But sometimes you do need to spice up your selections on hand with new fabrics for projects. Maybe it is time to take stock of what you have on hand. Sort through your fabrics and remove any that do not grab you or speak to you. You know those fabrics – they are saying why did you ever buy me??? Give those fabrics away! There are lots of charitable organizations that will take fabric and USE it! If you are really in a sorting mood, try this exercise – separate your fabrics into color groups. You will soon see that your palette is limited in certain color areas. Now you have a reason to shop for more fabrics in those missing or depleted areas areas.

The sorting process will make you feel much better, maybe every gain some more shelf space after you eliminate certain fabrics that are just taking up space. You will know what you have and maybe find some forgotten surprise purchases! I know I have. Your fabric collection (please don't call it a STASH… give it some dignity! ) will look neater and more inviting to work on projects.

We all love our fabrics! As long as you get inspiration and pleasure from your fabrics, they have served their purpose, even if they never get cut up and sewn back together again.

Enjoy Summer and stay Cool!!

JULY, 2016
It's Summer time and the living is Lazy!!
I am relaxing and working on my Birthday Butterfly quilt. I started it on my Birthday, June 8th. I figure I'll need 168 butterfly 6" blocks for a queen size bed. As of now, one month since my birthday, I have 70 completed! Guess I'm relaxing too much! I am using various sky fabrics as the background and many different combinations of batiks for the wings. This has been great fun. I sorted out all my fabrics and discarded some not talking to me. I have enough batiks for several king size quilts as well. For the borders I will use all batiks with a center sky in the Disappearing nine-patch format. Find a small easy hand project to enjoy during theses lazy days of summer and have fun!!

APRIL/MAY, 2016
April Showers Bring May Flowers! Or …. a spurt of creativity!
Nothing is more exciting to a quilter than a reason to make a quilt and the fabric to do it!
I know you are going to say you don't need any more fabric as you have enough for a lifetime of quilts to come. However, Yes ! you do need new fabric to enliven what you already have on your shelf. Old fabrics do get stale with the passing of time and need new yardage to spice them up. If you have no room for new fabric, then it is time to thin out what you have and won't ever use because your tastes have changed. There are lots of groups who make charity quilts and gratefully use your fabric donations. You will be blessed with room for more fabric to have fun with, either sewing or just enjoying as you touch and look at it.
The second thing that helps with creativity, especially for me, is a clean horizontal work surface. My sewing table is very inspiring when it is cleaned off of previous projects. I have clean slate to design and play with fabrics. It really works! I am not distracted by piles of "debris". However, once I am IN a project, the horizontal surface becomes a mountain range of creativity and that makes me very happy also!
Have fun AND HAPPY Spring at long last!!!
I'll be vending at the MQX Show at The Center of New Hampshire in Manchester, NH April 6-9. Stop in if you are in the area to say HI and see all my gorgeous ribbons and more!
MARCH, 2016
Happy Spring Coming Soon to Everyone!
Even if it snows, we know Spring is really on its way!
I am doing a little spring cleaning and going through drawers, bags and piles of stuff in my sewing room. It feels good to rediscover, sort out and get rid of some stuff. While I am not totally trashing everything, I am putting things together to give free to my customers at the next few quilt shows I am vending. Less is more! More space for future…!
Wishing you a happy Spring and have some fun rediscovering things in mystery drawers!
JANUARY, 2016

A belated New Year's Greeting to one and all!
I apologize for being lazy with updating this monthly Bouquet for the past few months.
The holidays are past and it's a wonderful new year, so let's begin again.
I hope this finds you in a relaxed mode and staying warm. No better way to stay warm than in a cozy chair with a favorite project. I SAY THIS AS A "HAND" PERSON. Machine people will relax behind their sewing machines… to each their own. This month is a great time to decompress after the hectic pace of the holidays. It is also a good time to sort out old projects you no longer want to do. Get rid of them and be freer in space….less IS more.
As a celebration of January, I am offering a selection of 10 yards of winter white ribbons – perfect for making snowflake"flowers"/ ornaments for next season. These are simple to make. See Ribbon Treasures from Celia's Garden by Faye Labanaris on page 79 for directions and pg 28 for completed examples.
Cost of 10 yards of an assortment of various width wire edge ribbon is $10 plus $1.50 shipping. Email to reserve your package. Limit of 3 per customer. Visa and Mastercard accepted over the phone. Fayequilt@comcast.net or 603 742 0211
CHRISTMAS COAL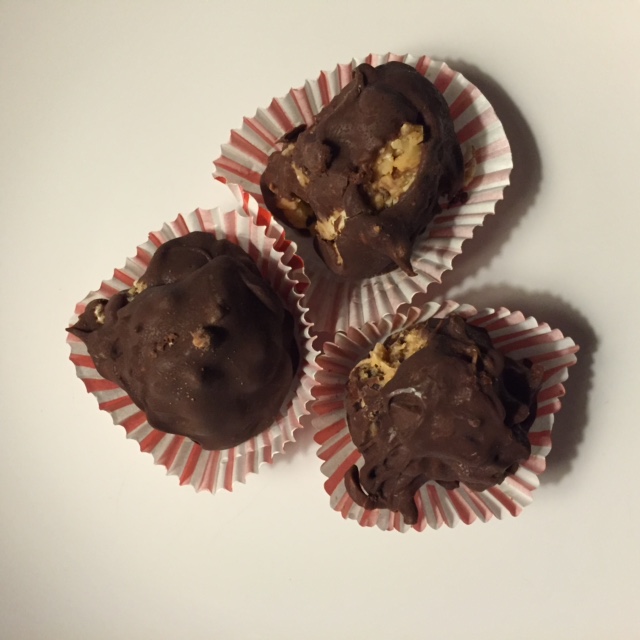 These candies do look like lumps of coal, but anyone would be glad

to receive it in the bottom of their Christmas stocking! ENJOY!

1 c. sweetened coconut
¾ c. smooth peanut butter
½ c. confectioners sugar
1 c. chopped nuts (pecans)
1 c. whole pitted dates chopped (don't use the prechopped variety)
12 oz. semi-sweet chocolate bits (Ghirardelli)
Coarsely chop the pecans.
Use a scissors to easily snip the whole dates into small pieces.
Combine All the ingredients, except the chocolate, in a large bowl and mix well.
Use your hands to combine everything.
Roll into balls about 1" in size.
Melt the chocolate bits in a heavy saucepan over low heat.
Gently coat the balls with chocolate.
Use a fork to lift out, allowing the excess chocolate to drip off.
Place on parchment paper lined tray.
Refrigerate till firm.
These can be served cold or at room temperature and can be frozen, if they last that long!
Copyright © 2012 - 2017Faye Labanaris. All Rights Reserved.
All images on this site are protected by copyright law and no image
may be reproduced in whole or in part without expressed written permission.